EAO manufactures a broad range of industrial switches including foolproof Emergency-stops and high-illumination pushbuttons.They offer unparalleled reliability with the benefit of EAO's unique, tactile 'click' that is reassuring for the user.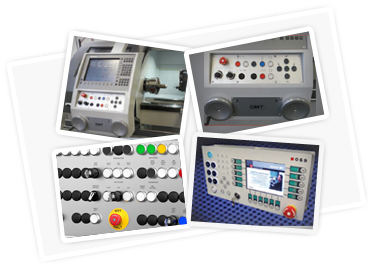 EAO offers a mixed technology approach for developing HMI systems for industrial machinery. This typically uses a base set of electro-mechanical components or a more complex integration of keyboard, display, touchscreen and industrial PC, depending on the required functional sophistication and level of visualisation. The flexible approach to using technology offers customers a real competitive edge.
Typical interfaces designed by EAO include :
Primary control panels using discrete switches for system start-up and shutdown, including emergency-stop functions
Handheld remote controls and tethered pendants with displays and short-travel keypads for data entry
Touch-screens and industrial PCs with serial bus interfaces for linking to core system.
Industrial machinery may need to operate in densely concentrated, contaminated environments where air-bourne dust and moisture, noise, heat and poor light are common hazards. Given these conditions, it's critical to make the interaction between operator and machine safe, intuitive and error free.
EAO achieves this by :
Analysing all aspects of the operational/functional/environmental and user requirements of a complete system
Designing interfaces using the most appropriate mixed technology of electromechanical components, touch-screens, displays, keyboards or whatever the project requires
Considering the equipment life-cycle and operating environment including any requirements for IP, NEMA, IEC, ADA, ANSI and OSHA compliant interfaces; protection against corrosive gas, acids and other caustic agents may be necessary
Providing interconnection and communication with other systems and controllers in the manufacturing environment
Modular construction and customisation - components can be varied depending on end customer, or updated for future equipment.